!!! The event is fully booked !!!
Berlin, 19.06.2016
Rad Race FIXED42 Worldchampionships
42 kilometers of clean asphalt, freeway and innercity roads...just you, your bike...and a few hundred fellow maniacs. Fixed and full throttle through the streets of Berlin - on your way to becoming a world champion! The second edition of the RAD RACE FIXED42 WORLDCHAMPIONSHIPS is on the agenda. Trizillion thanx to our friends of the Velothon Berlin for providing us with that extraordinary racetrack.
LIVE STREAM
THE RAD RACE X STANDERT FIXED42 WORLD CHAMPIONSHIP FRAME
The Umlaufbahn is made for racing.
Its name means "Orbit", but the german word "Bahn" at the same time means track, and that's one of the things the Umlaufbahn feels at home doing - revolving around the track. Or for that matter pushing fast laps around a tight cut crit course. Its stiffness, the high bottom bracket and the tight wheelbase will make you fly around those corners. In the end it comes down to your legs, but at least give them a good tool to work with!
The Umlaufbahn is the weapon of choice of Fixedpott and Team Standert.

We cannot stress enough how much we love Team Standert and what they do. Pretty much the same story like RAD RACE : A bunch of friends riding together and out of their passion they started 1 cycling brand and 1 small shop in Berlin. We always try to support the local crews and what they do in their scene. Standert is full of amazing people and riders and they seem to do it all by themselves too. There is no cooperation in their back. It's just these guys.

Please please please check out what they do and buy your next frame in Berlin.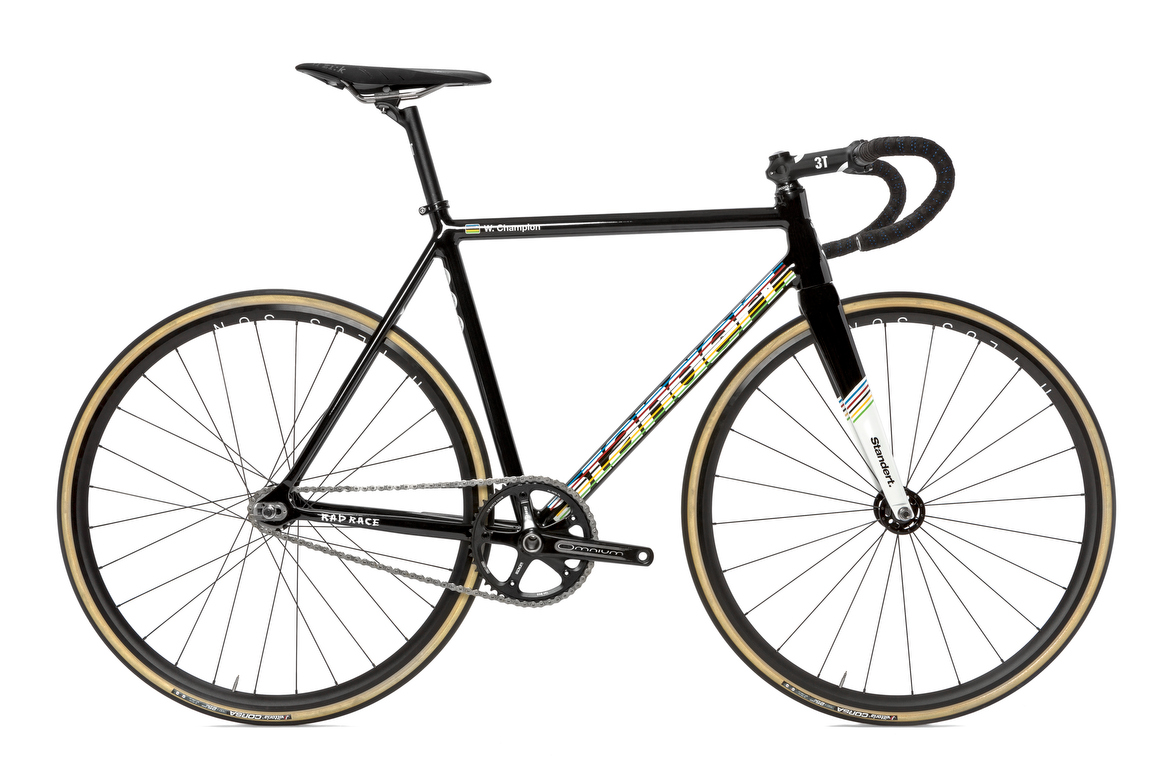 PHOTOS BY CONSTANTIN GERLACH.
When

Start of race:
19.06.2016
1:40 pm in Ludwigsfelde
Pre-Party:
18.06.2016
at the Oakley Store Berlin incl. Tattoo Artist, Goldsprint, Drinks & DJ's
For all those who still want more join the Alleycat "Race to Gondwana" after the FIXED42.
Who
All participants aged between 16 and 18 need a letter of consent signed by their parents.

Fixed Gear only!
(Brakeless)
No helmet, no ride!
Location
Start: Berlin-Ludwigsfelde
At the corner of Brandenburgische Strasse & Potsdamer Strasse in 14974 Ludwigsfelde
Finish: Strasse des 17. Juni
Prices
Bragging rights
Plus some awesome prizes from our partners.
Canyon // Oakley // Vitamin Water // Gore Bike
Wear // Iriedaily // Ambrosio // Vredestein //
RooDol // Baicyclon
Kit 1: SOLD OUT!
42,19€
incl. Event-Shirt

Kit 2: SOLD OUT!
60,00€
incl. Event-Shirt & RAD RACE armwarmers
Kit 3: SOLD OUT!
117,00€
incl. RAD RACE Jersey
For women: If you register for one of our events you can bring a female friend that can participate for free.
RULZ
MATERIAL:
No brakes.
Track frames.
Fixed gear.
Lockring.
Dropbars with bartape and barends // No Riser or other bars allowed!
18 spokes minimum // No tri-spokes.
No BMX pedals
Ratio about 50x14 // 48x13.
Helmet!
No Triathlon Bottle holders on the back of your saddle.
THE RACES:
The women start 2 minutes after the men's starting shot. The men's and women's race will both have a leading moto! That means - especially for the women's race - every male rider is disqualified who is between the leading moto and the first female leading group. The women ride their own race. Be fair. We don't care if there are male riders behind the first female leading group BUT we do care if men are riding for women. We wanna let them have the same game!!!
For Open & Fixed Gear: THIS IS FOR FUN!
We will check your bikes AND we may disqualify you in case of unfair riding! Safety is crucial and more important than everything else.
How to get there:
Just in case you plan on using your car to come out to Ludwigsfelde please be aware of possible complications and re-routings due to the Velothon main event.
Using the Railroad is by far the easiest way to commute to Ludwigsfelde! Check for train schedule here. Just make sure to start your commute early. On raceday everybody will be a little stressed out so it's best to take your time and get there in advance.
Also be aware that 499 other riders might want to use the trains as well. Once you made it to Ludwigsfelde you are almost there. The start area is about 2 kilometers away from the trainstation at the corner of Brandenburgische Strasse & Potsdamer Strasse in 14974 Ludwigsfelde.
DOWNLOAD THE RAD RACE FIXED42 WORLD CHAMPIONSHIPS TRACK HERE:
Locations
FIXED42 Start - Brandenburgische Strasse // Potsdamer Strasse, 14974 Ludwigsfelde
FIXED42 Finish - Strasse des 17. Juni, 10623 Berlin
OAKLEY Berlin - Rosenthaler Str. 34, 10178 Berlin
Alleycat "Race to Gondwana" - Wismarplatz, 10245 Berlin
The FACEBOOK EVENT is here:


ROODOL- WARM UP AREA
The warm up area in 2016 will be provided by our new partner RooDol®. There will be 12 spots at each event that can be used by all athletes to warm up and get that blood flowing.
Format
Running a marathon is pretty cool.
But only at the RAD RACE FIXED42 WORLDCHAMPIONSHIPS you can rock that thing on your trackbike in the middle of Berlin! We're able to present the final 42.195 k of the official Velothon racetrack as our playground and you guys will crash the track just ahead of the pros. If there was ever any kind of doubts, here is the official prophecy: It's gonna be fast! In 2015 the average speed of the fastest FIXED42 participants was above the average speed of the pros!
Details
These are our brave riders. All registered athletes will be listed here.
Here's all details about the race and the disclaimer.