Danke an alle Fahrer, Zuschauer und vor allem alle Helfer, die mit uns ein saugeiles erstes RAD RACE in Karlsruhe aufgebaut haben. Danke an unsere lieben Freunde vom RITZLER (geilster BikeShop der Welt!) für den Support!!! Thanks and goodbye to our new french friends from the Dijon Moustard Crew x Sport Unit!! Hier gibts jetzt die ersten Pics und Ergebnisse der Finals!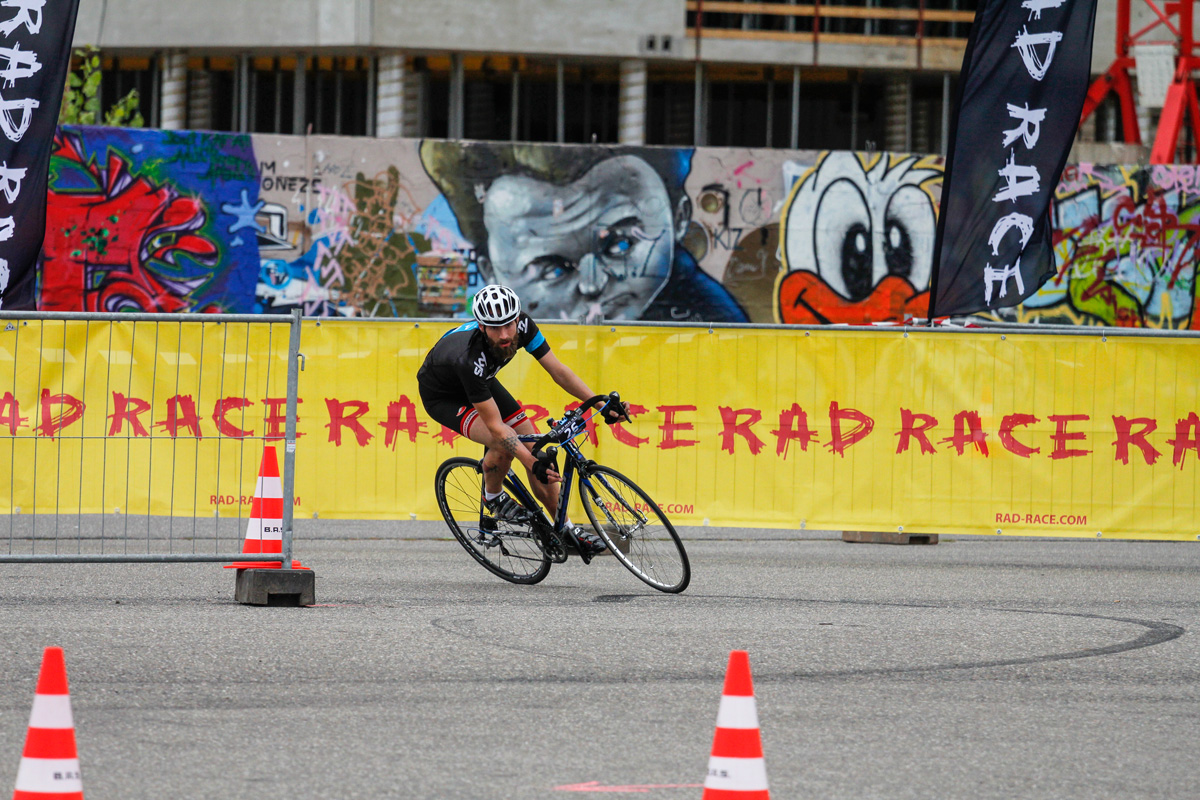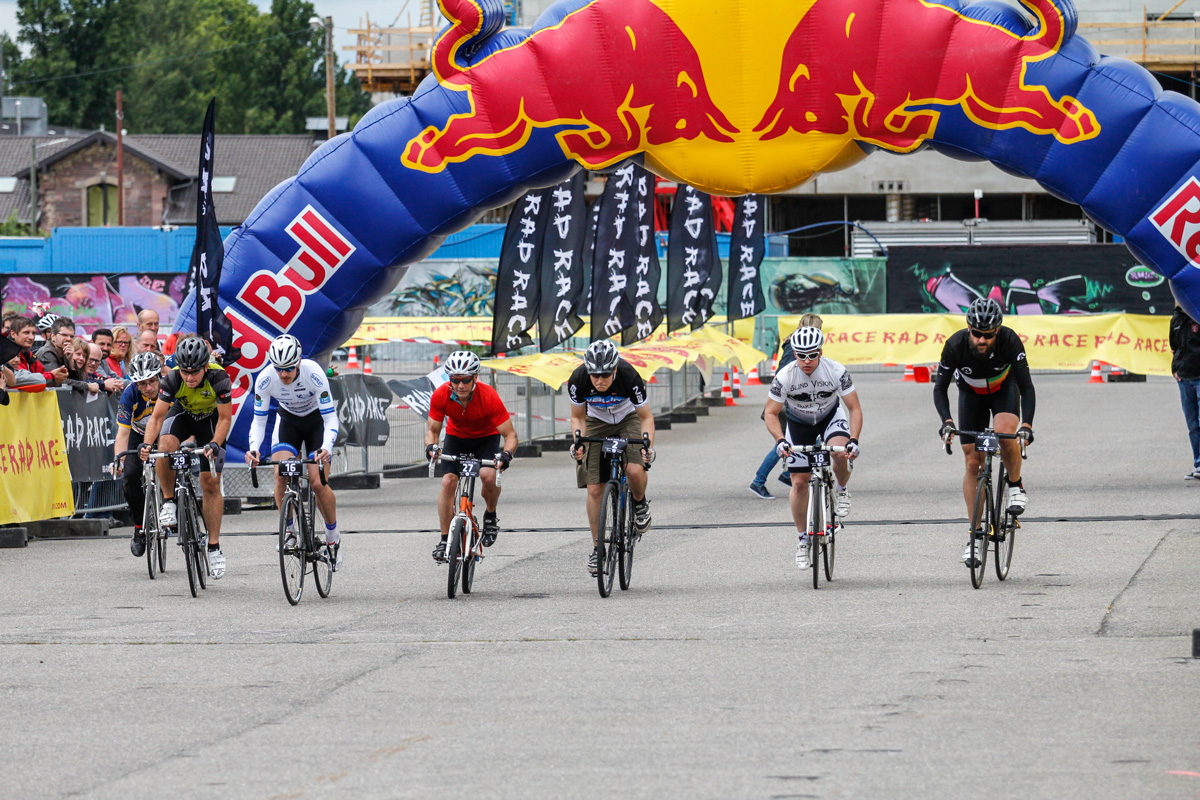 Thank you so much dear partners!!!! It wouldn't be possible without your support! Danke an die besten Partner der Welt!!!
Irie Daily
Aurora Collective
Schwalbe
Bagjack
Kappstein Ritzel
Becks
Red Bull
Vitamin Water
Der Ritzler

Wir sind noch an dran, hier alle Ergebnisse von allen Fahrern und allen Rennen einzutragen. Gebt uns bis Dienstag Hier schon mal die Ergebnisse der Frauen (Open) und Männer (Fixed & Open)...
Here are the results of the finals!
All other times from all riders will follow tomorrow!
RAD RACE Street Hunt - Final Women OPEN (8 x 800m)
1. Laura Nottarp - Radiculous - 12:58.1
2. Mimi Schwieger - Radiculous - 12:58.9
3. Dini Drössler - Team Glaublich - 13:44.5
4. Linda Gaggelmann -Team Ghetto - 14:39.3
5. Melanie Glasstetter - Flying Flokati - 14:56.6
RAD RACE Street Hunt - Final Men OPEN (8 x 800m)
1. Nico Wolgep - Radteam Schmitz - 10:54.5
2. Marc Wunderlich - VC Racingteam - 10:55.0
3. Benjamin Oesterle - Oesterle Bros International - 10:55.6
4. Clemens Bachmann - Bachmann Bros - 10:56.9
5. Michael Hoffmann - Bleifresser - 11:09.8
6. Yannik Roth - Hier könnte ihre Werbung stehen - 11:10.3
7. Matthias Landgraf - Blind Vision - 11:10.7
8. Matthias Kaster - Zorro Velo Krefeld - 11:10.9
9. Philipp Roll - Bleifresser - 11:15.3
10. Björn Geissler - Stuttgart Fixed Gear - 11:41.0
RAD RACE Street Hunt - Final Men FIXED (8 x 800m)
1. Thibaud Lhenry - In'Bo - 10:39.2
2. Theo Zulian - Dijon Mustard Crew x Sport Unit - 10:45.2
3. Stefan Schäufle - Bike Team Stenger - 10:47.2

4. Jon Kost - Der Ritzler - 11:03.0
5. Pascal Haaf - Stuttgart Fixed Gear - 11:03.2
6. Felix FC - rrkg Velocambinat Muc - 11:05.5
7. Robert Ropertz - Zorro Velo Krefeld - 11:26.7
8. Maxime Poisson - Dijon Mustard Crew x Sport Unit - 11:32.6
9. Jonas Oesterle - Oesterle Bros International - 12:00.8
10. Marc Schnepf - Flying Flokati 04:07.3

RADY FOR THE NEXT RAD RACES?
THEN PLEASE CHECK OUT OUR LAST 3 EVENTS OF 2014:

QF Gruppe 1 Open
16 // Marc WUNDERLICH // Vc-Racingteam // 00:01:15.2 // 00:10:52.6
29 // Michael HOFFMANN // Bleifresser // 00:01:20.4 // 00:11:04.3
4 // Björn GEISSLER // Stuttgart Fixed Gear // 00:01:21.5 // 00:11:04.5
18 // Mattias LANDGRAF // Blind Vision // 00:01:21.9 // 00:11:26.5
2 // Michael BLAD // Micha // 00:01:35.4 // 00:13:06.1
27 // Rebel DANCER // Sport Spass Guerilla // 00:01:37.0 // 00:13:32.2
14 // Frank HEROLD // kabi39 // 00:01:38.0 // 00:13:39.1
QF Gruppe 2 Open
28 // Benjamin OESTERLE // OBI (Oesterle Bros International) // 00:01:18.3 // 00:11:05.5
5 // Clemens BACHMANN // Bachmann Bros // 00:01:24.1 // 00:11:28.2
23 // Adi G. // Rad Pack // 00:01:20.8 // 00:11:50.2
30 // Michael RAACH // Hardys // 00:01:23.6 // 00:11:50.2
25 // Rafael LOZYKOWSKI // Deal with it // 00:01:29.3 // 00:12:28.0
1 // Philipp SCHWARZ // KSHZLE Crew // 00:01:37.2 // 00:11:14.4
8 // Andreas TREMMEL // Knuffo-Mania // 00:01:43.6 // 00:11:39.1
QF Gruppe 3 Open
21 // Daniel ROTH // RSC Neustadt // 00:01:16.1 // 00:10:32.0
34 // Jakob ROHMER // 00:01:21.3 // 00:11:09.2
26 // Matthias KASTER // ZORRO VELO KREFELD // 00:01:20.8 // 00:11:09.5
6 // Tobias HERMANNRSC // Komet Ludwigsburg // 00:01:19.7 // 00:11:11.0
19 // Sven JUNKER // Triathlon Machines Saar // 00:01:22.9 // 00:11:47.8
31 // Volker ZIPPERER // Hardys // 00:01:30.6 // 00:10:37.2
QF Gruppe 4 Open
7 // Nico WOLGEP // Radteam Schmitz // 00:01:20.7 // 00:11:14.6
20 // Philip ROLL // Bleifresser // 00:01:23.5 // 00:11:17.4
3 // Yannik ROTH // Hier könnte ihre Werbung stehen! // 00:01:24.1 // 00:11:18.8
12 // Markus FRIEDRICH // 00:01:23.6 // 00:11:19.3
22 // Stefan FUNK // Team Silla Hopp // 00:01:21.2 // 00:11:20.7
24 // Olsen RUDEBOY // Radsport zum Anfassen // 00:01:39.2 // 00:11:42.1
QF Gruppe 1 Fixed

32 // Jan KOST // Der Ritzler // 00:01:26.1 // 00:11:41.3
19 // Corderot CLÉMENT // Dijon Mustard Crew X Sportunit // 00:01:30.8 // 00:12:32.5
29 // Rudi FORSCH // Der Ritzler // 00:01:32.4 // 00:12:34.4
13 // Tim HABERMAAS // 00:01:32.7 // 00:12:36.0

QF Gruppe 2 Fixed

15 // Thibaud LHENRY // IN'BÔ // 00:01:25.3 // 00:11:53.4
14 // Jonas OESTERLE // OBI (Oesterle Bros International) // 00:01:29.6 // 00:12:16.5
34 // Marc SCHNEPF // Flying Flokati // 00:01:30.500:12:22.6
21 // Steffen MACKERT // Bikepolo Karlsruhe // 00:01:31.4 // 00:12:28.1

QF Gruppe 3 Fixed

16 // Théo ZULIAN // Dijon Mustard Crew x Sportunit // 00:01:19.7 // 00:11:03.7
7 // Pascal HAAF // Stuttgart Fixed Gear // 00:01:18.5 // 00:11:06.8
28 // Philipp KIPPHAN // 00:01:27.3 // 00:12:08.2
24 // Hannes HENTSCHEL // Bikepolo Karlsruhe // 00:01:30.8 // 00:12:11.6
33 // Christian FRIEDRICH // Kona Bongo Bongo // 00:01:34.8 // 00:11:26.7
18 // Clement LAFIANDRA // Dijon Mustard Crew x Sportunit // 00:01:22.4 // 00:06:58.1
31 // Konrad BACHMANN // Bachmann Bros

QF Gruppe 4 Fixed

8 // Felix FC // rrkg Velocombinat Muc // 00:01:23.8 // 00:11:33.1
27 // Stefan SCHÄUFLE // Bike Team Stenger // 00:01:23.7 // 00:11:33.5
25 // Robert ROPERTZ // ZORRO VELO KREFELD // 00:01:25.3 // 00:11:34.4
17 // Maxime POISSON // Dijon Mustard Crew x Sportunit // 00:01:24.8 // 00:11:35.7
20 // Gunja LILIENTHAL // RadPack // 00:01:24.7 // 00:11:53.0
30 // Thomas METZ // Bikepolo Karlsruhe // 00:01:34.9 // 00:13:00.9
12 // Flo WILKE // Kappstein // 00:01:27.2 // 00:04:25.1
HF Gruppe 1 Open

16 // Marc WUNDERLICH // Vc-Racingteam // 00:01:16.5 // 00:11:16.2
21 // Daniel ROTH // RSC Neustadt // 00:01:20.1 // 00:11:18.6
5 // Clemens BACHMANN // Bachmann Bros // 00:01:18.3 // 00:11:25.0
4 // Björn GEISSLER // Stuttgart Fixed Gear // 00:01:21.4 // 00:11:28.6
26 // Matthias KASTER // ZORRO VELO KREFELD // 00:01:23.0 // 00:11:29.5
20 // Philip ROLL // Bleifresser // 00:01:23.3 // 00:11:30.9
12 // Markus FRIEDRICH // 00:01:23.6 // 00:11:31.9
30 // Michael RAACH // Hardys // 00:01:25.2 // 00:12:03.1

HF Gruppe 2 Open

28 // Benjamin OESTERLE // OBI (Oesterle Bros International) // 00:01:16.1 // 00:11:02.2
7 // Nico WOLGEP // Radteam Schmitz // 00:01:17.8 // 00:11:04.1
29 // Michael HOFFMANN // Bleifresser // 00:01:20.8 // 00:11:19.0
18 // Mattias LANDGRAF // Blind Vision // 00:01:22.0 // 00:11:21.2
3 // Yannik ROTH // Hier könnte ihre Werbung stehen! // 00:01:23.2 // 00:11:22.2
23 // Adi G. // Rad Pack // 00:01:21.5 // 00:11:24.2
6 // Tobias HERMANN // RSC Komet Ludwigsburg // 00:01:22.3 // 00:11:24.3
19 // Sven JUNKER // Triathlon Machines Saar // 00:01:25.5 // 00:11:52.3

HF Gruppe 1 Fixed

16 // Théo ZULIAN // Dijon Mustard Crew x Sportunit // 00:01:18.4 // 00:10:55.7
32 // Jan KOST // Der Ritzler // 00:01:18.5 // 00:10:56.0
17 // Maxime POISSON // Dijon Mustard Crew x Sportunit // 00:01:24.0 // 00:11:39.7
14 // Jonas OESTERLE // OBI (Oesterle Bros International) // 00:01:25.3 // 00:11:41.2
27 // Stefan SCHÄUFLE // Bike Team Stenger // 00:01:25.2 // 00:11:46.9
28 // Philipp KIPPHAN // 00:01:27.7 // 00:11:58.2
21 // Steffen MACKERT // Bikepolo Karlsruhe // 00:01:27.6 // 00:11:58.7
29 // Rudi FORSCH // Der Ritzler // 00:01:31.4 // 00:12:26.8

HF Gruppe 2 Fixed

11 // Pascal HAAF // Stuttgart Fixed Gear // 00:01:19.6 // 00:11:08.2
15 // Thibaud LHENRYIN'BÔ // 00:01:21.1 // 00:11:12.4
25 // Robert ROPERTZ // ZORRO VELO KREFELD // 00:01:28.2 // 00:11:53.5
34 // Marc SCHNEPF // Flying Flokati // 00:01:22.0 // 00:11:57.0
8 // Felix FC // rrkg Velocombinat Muc // 00:01:24.1 // 00:11:59.4
24 // Hannes HENTSCHEL // Bikepolo Karlsruhe // 00:01:27.0 // 00:12:02.7
19 // Corderot CLÉMENT // Dijon Mustard Crew X Sportunit // 00:01:29.1 // 00:12:42.5
13 // Tim HABERMAAS // 00:01:28.8 // 00:02:57.3

FINAL GIRLS

38 // Laura NOTTARP // RADICULOUS // 00:01:32.1 // 00:12:58.1
37 // Mimi SCHWIEGER // RADICULOUS // 00:01:32.9 // 00:12:58.9
35 // Dini DRÖSSLER // TEAM GLAUBLICH // 00:01:41.5 // 00:13:44.5
40 // Linda GAGGELMANN // Team Ghetto // 00:01:45.6 // 00:14:39.3
39 // Melanie GLASSTETTER // Flying Flokati // 00:02:26.7 // 00:14:56.6

FINAL OPEN

7 // Nico WOLGEP // Radteam Schmitz // 00:01:16.6 // 00:10:54.5
16 // Marc WUNDERLICH // Vc-Racingteam // 00:01:17.2 // 00:10:55.0
28 // Benjamin OESTERLE // OBI (Oesterle Bros International) // 00:01:18.0 // 00:10:55.6
5 // Clemens BACHMANN // Bachmann Bros // 00:01:18.9 // 00:10:56.9
29 // Michael HOFFMANN // Bleifresser // 00:01:20.0 // 00:11:09.8
3 // Yannik ROTH // Hier könnte ihre Werbung stehen! // 00:01:22.7 // 00:11:10.3
18 // Mattias LANDGRAF // Blind Vision // 00:01:20.7 // 00:11:10.7
26 // Matthias KASTER // ZORRO VELO KREFELD // 00:01:20.9 // 00:11:10.9
20 // Philip ROLL // Bleifresser // 00:01:23.1 // 00:11:15.3
4 // Björn GEISSLER // Stuttgart // Fixed Gear // 00:01:23.9 // 00:11:41.0

FINAL FIXED

15 // Thibaud LHENRY // IN'BÔ // 00:01:16.8 // 00:10:39.2
16 // Théo ZULIAN // Dijon Mustard Crew x Sportunit // 00:01:16.8 // 00:10:45.2
27 // Stefan SCHÄUFLE // Bike Team Stenger // 00:01:18.3 // 00:10:47.2
32 // Jan KOST // Der Ritzler // 00:01:20.2 // 00:11:03.0
11 // Pascal HAAF // Stuttgart Fixed Gear // 00:01:18.4 // 00:11:03.2
8 // Felix FC // rrkg Velocombinat Muc // 00:01:20.8 // 00:11:05.5
25 // Robert ROPERTZ // ZORRO VELO KREFELD // 00:01:24.5 // 00:11:26.7
17 // Maxime POISSON // Dijon Mustard Crew x Sportunit // 00:01:24.9 // 00:11:32.6
14 // Jonas OESTERLE // OBI (Oesterle Bros International) // 00:01:25.6 // 00:12:00.8
34 // Marc SCHNEPF // Flying Flokati // 00:02:23.5 // 00:04:07.3